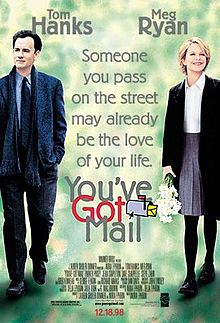 Every year at this time I enjoy watching holiday movies. I usually watch my favorites like The Bishop's Wife, Christmas in Connecticut, The Man Who Came To Dinner, and of course A Christmas Carol. There are others but I really enjoy those.
This year I decided to start the season with a semi-holiday movie. Last night I decided to watch You've Got Mail. I selected this one because it takes place during the Thanksgiving/Christmas time frame. Well, the ending takes place during the spring but most of the movie is during the holiday season.
I love this movie because I love romantic comedies. I think Meg Ryan was in her prime at that time and Tom Hanks was pretty good as well. This movie has a lot of technology in it but it wasn't really showcased that well. For example, both the main characters were using laptops. One was a Mac and one was a PC. I liked the Mac of course. However, at several times during the movie they showed the laptops and I only remember one time where the laptops were actually plugged into a phone line. Remember this movie was probably made in 1997 and released in 1998 before wifi. The average person probably won't even notice these things but I did. At that time I was all about AOL and connecting with people in the chat rooms and through email so I enjoyed the technology in the movie.
But I also enjoy a good love story. I like the way Tom Hanks character plays with the Meg Ryan character for a few months, working her into a relationship before she even knows it. And the fact that it takes place during the holidays is just a bonus. Also, the movie is actually a remake of The Shop Around The Corner which is also a holiday movie. I like that movie too but I prefer the remake.
Anyway, I consider this my first holiday movie this year. This weekend I'm sure I'll be catching up on my favorites but until then, I'll savor this first holiday movie I've seen this year.